I've been involved with Eagle's Nest since first taking a trip there with my youth group in 2013. I then interned for two months over the summer of 2014, and was able to spend a week over Christmas there with my parents last month. Throughout the time I've spent at Eagle's Nest, I've been blessed to develop lasting friendships with workers and children. My Spanish is much better now than it was in 2013, and I've been able to talk to the kids about a lot more than what their favorite color was. I've gotten to know each kid's heart, their personality, and their dreams. I've been able to watch some of the most incredible transformations take place in the childrens' lives at Eagle's Nest, from hitting milestones like walking and talking, to seeing kids learn to trust that they're safe and loved here, and that they can be kids again.
One thing that never fails to blow me away about Eagle's Nest is how willing they are to meet the needs of every child that comes through their doors. Whether a kid is going to be there for a day or for years, that child won't leave without feeling deeply loved. I think the only word that gets close to describing the love I'm talking about is agape, the Greek word meaning the highest form of love. The love that drove an all powerful God to give of himself, in the form of his son, to reconcile us to him, so that we can be restored in every way, physically, emotionally, spiritually. That's the love I want every kid at Eagle's Nest to experience through their own personal relationships with Christ. It's that same love that compels us in the United States to give financially, or to travel and meet the kids in person.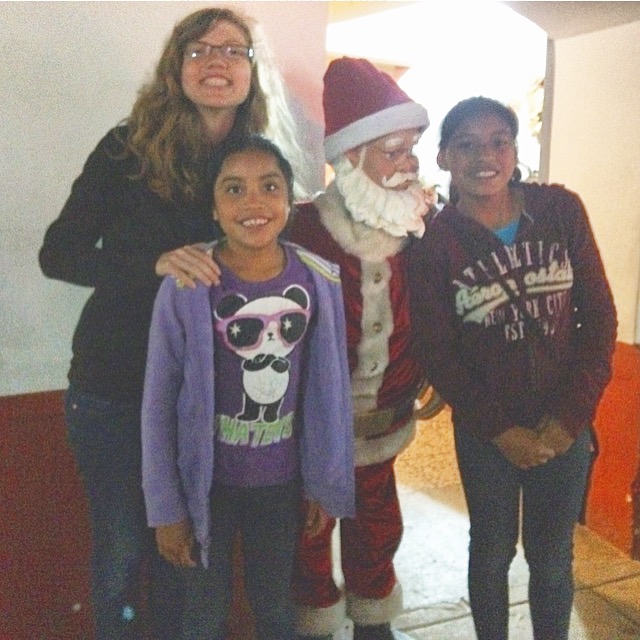 Eagle's Nest is a living, breathing testament of what we as Christians and the church body have been called to do. Give food, clothes, and shelter to those in need. Take care of the orphans and the widows. Spread the gospel. Eagle's Nest is doing this. And Eagle's Nest is raising up kids that will one day be the adults giving food, clothes, shelter, and sharing the gospel with those in need. That's the part that makes me the most excited.
I've been able to see God at work in each kid's life, especially during my last trip over Christmas. I discovered that most of the girls have learned the sign language alphabet so they can communicate more clearly with Jeni, who is partially deaf. It'd be an understatement to say my heart melted when I watched Christina sign words back and forth with Jeni one afternoon. My parents and I sat down with Anayancy, the older boys' house mom one evening, and she told us how great the boys are doing. She said Ever is becoming a strong spiritual leader in the youth group and in their home, where he leads most family devotionals. Nahum is starting to take an interest in God after wanting nothing to do with him. Eliseo is helping lead the youth group. Juan Carlos is a great young man with a kind and caring heart. I watched Eliseo share the gospel through a skit involving two puppets during the youth group Christmas party, and it was incredible. He's so talented! These young men are becoming leaders and I'm so proud of them.
Another thing that made my heart melt during the trip was to watch and listen to every kid pray for Papa Pedro and Mama Felis every chance they got. I heard it before meals, before activities, before bedtime. The last night of my trip I tucked Valerie into bed and told her goodnight and she said wait, we have to pray. So I prayed a simple prayer, thank you for today and thank you for our friends here, amen. And Valerie added on, thank you for Papa Pedro and Mama Felis. (In Spanish of course, she can't speak English.) I'm not writing this to glorify Papa Pedro and Mama Felis, but to thank them, because they have answered the call that God has given them, and they have become parents to a lot more kids than I know they ever dreamed of. Papa Pedro and Mama Felis have also given me the opportunity to become Hermana Jordan to a lot more siblings than I ever dreamed I'd have, and I truly can't say thank you enough for that.
If you're reading this and you want to get more involved in the ministries going on at Eagle's Nest, I urge you to do it! You'll be making a real and true difference in the life of a child, and I bet more than anything, that child will end up making a difference in your own life. I'm so excited to see more and more people using their own talents to pour into the kids' lives at Eagle's Nest. Whatever you're passionate about, whatever you're good at, there's a place for you to pitch in here at Eagle's Nest.
P.S. Juan Carlos is the Crepe King and everyone needs to eat his crepes when they come to Eagle's Nest, they're worth as much as the plane ticket costs!